Zonta International District 4
Young Women in Public Affairs Scholarship
July 24, 2019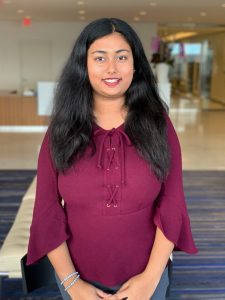 The District 4 Awards Committee is very pleased to announce that Amal Qayum, submitted by Niagara Falls, Canada, has been selected as the District 4 Young Women in Public Affairs scholarship winner for 2019.  Amal will receive $1,500 from Zonta International as the District 4 Young Women in Public Affairs Scholarship recipient.  The District 4 Awards Committee received 9 applications from the clubs in District 4.  The candidates were all exceptional young women.
More good news … the first of July, we received word that Amal is also a scholarship recipient of Zonta International. From Zonta International, Amal will receive $4,000 as one of their 10 recipients chosen.  Amal will be recognized at the District 4 Conference in September.
Amal Qayum graduated from Westland Secondary School in June.   She plans on studying Relations at the University of Toronto and pursue a JD in Law or a Master's in Business or Education.  She wants to continue influencing systemic change at the provincial level ensuring that Ontario's youth are set up for success.
Amal has an impressive record of accomplishments during her secondary school career.
worked with the District School Board of Niagara's Student Senate as a student trustee
was liaison between political figures including the Education Minister and educational figures within the school board and schools at large
designed a summer camp which worked to support young Muslin girls through her local mosque
Through a Speak Up Grant, was able to coordinate, lead and organize a Multicultural Event
balanced her extra-curricular involvements with her courses to maintain an astonishing average in the mid-90%.
Beth and I wish to extend a sincere thank you to the District 4 Awards Committee members who participated in judging the District 4 YWPA Scholarship nominees, for their dedication to the quality program.
Bonnie Crogan-Mazur, Zonta Club of Niagara Falls, NY
Patricia Davis, Zonta Club of Kitchener-Waterloo
Jane Newman, Zonta Club of Kitchener-Waterloo
Marnie Piggot, Zonta Club of Oakville
Brenda Ulrich, Zonta Club of Lockport
District 4 Awards Committee Chairs
Alyce Van Patten, Zonta Club of Rochester
Beth Zak, Zonta Club of Three Rivers Pittsburgh North