Zonta D4 2018 Training Retreats
June 2018
Governor-Elect Bonnie Clesse and Lt. Governor-Elect Janice Durmis held the traditional Training Retreat weekend for our six elected Area Directors from Friday, June 8th – Sunday, June 10th at the Center of Renewal (COR) in Lewiston, NY, USA.  This retreat was an opportunity for introductions to be made, intensive learning and early installation of the ADs. Thus, allowing each AD to officially wear her AD pin and fully participate in the role when the ladies host their first Presidents' meetings over the summer.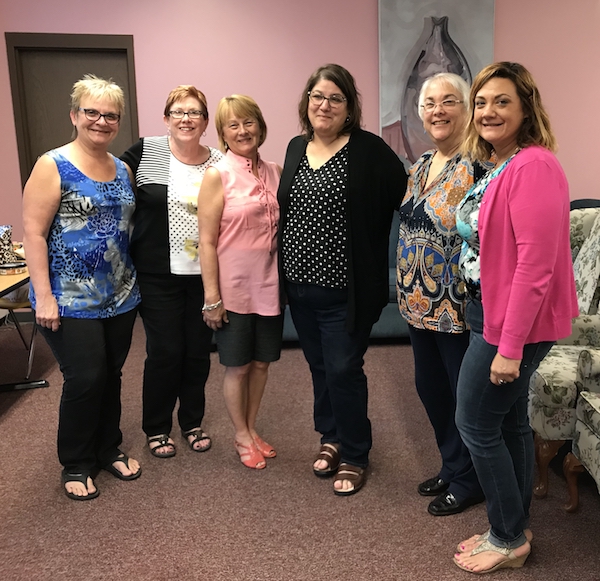 Please welcome our District's 2018-2020 Area Directors
(left to right) Brenda Graham, Area 1; Nita McCown, Area 2; Jenny Johnston, Area 3; Gina Orsini, Area 4; Diane Balaban, Area 5; and Ann Marie West, Area 6.  Karen Grand, Area 2 Vice AD, was unable to attend.
Photo taken by Lt. Governor-Elect Janice Durmis.
September 2018
D4 Elected Board Officers and Appointed Committee Chairs will also be visiting the Center of Renewal (COR) for their September Weekend Retreat and to participate in their first board meeting of our new biennium.
As is tradition, Kathleen Douglass as a Past Governor will install the other elected board officials:  Janice Durmis, Lieutenant Governor; Marcia Bliss, Treasurer; Karen Grant of ZC Oakville, Vice Area 2 Director; Lori Robinson, Nominating Chair; and the remaining Nominating Committee members Jill Colburn and Nancy McCulloch.  She will also install appointed Secretary Marianne Chiumento.